Join us this Friday, May4th at noon in the Alliance Public Library Community Rooms as Don Henderson offers uplifting anecdotes and stories from the book I Like Being American: treasured traditions, symbols and stories edited by Michael Leach.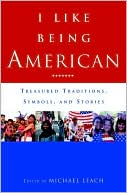 A book of great spirit and generosity, I Like Being American showcases in words and pictures why 300 million people of every religion, ethnicity, and race are proud to say with one voice, "I like being American!"
The free program is is sponsored by The Friends of the Library and light refreshments will be provided. This will be the last Brown Bag program of the season. The next Brown Bag will be on the first Friday of September, 2012.