Roxi Wilkinson, one of our avid and discerning readers, has graciously agreed to share some reviews on her favorite books. She's one of those people who can find those gems that are really worth reading. I'll be sharing more of her reviews in the coming weeks. If you would like to share your thoughts on a good book you have recently read, you can email me your review at thickox@cityofalliance.net and I'll be thrilled to post it for you.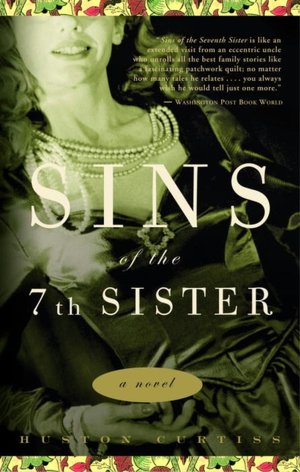 Sins of the Seventh Sister by Huston Curtiss is an astounding debut based on the true story of Curtiss' life growing up in the Gothic South beginning in 1929 when he is just seven years old.  Curtiss' grandparents give him a diary with the assignment to always keep journaling.  It is from the childhood memoirs that the grotesque, desolate, creepy stories for this remarkably smooth read flow.  (Don't worry, this book isn't all horrors, it will have you laughing 'til your liver pops!) .
Huston ("Hughie") is a well adjusted only child of a white Western Virginian family of influence.  His mother is the beautiful, powerful, compassionate Billy-Pearl, the seventh of eleven daughters.  Billy-Pearl adopts a scruffy crew, including a castrated orphan who becomes a successful opera star, a black family running from the KKK and a homeless, elderly school teacher. Billy-Pearl does WHATEVER is required to keep her brood safe.  Hughie is often jealous of their growing family but figures out he needs Billy-Pearl as much as the others.
Curtiss' gift with words draws the reader in and rewards with an interesting, quick-paced read questioning rape, murder, sexuality, racism, gerontology, and other controversial topics of our culture.  His humor and bald honestly are startling and leave the reader pondering the sin v.s. saint dichotomy. 
 One of the main things I like so much about this book is Billy-Pearl's insistence that her farm operates self sufficiently.  They raised and processed their own meat, eggs and milk products and canned produce from their massive gardens. The work list goes on and on.   Every one was expected to work hard which touches my heart because this is how I grew up on our farm.  My Parents and Grandparents were always busy keeping food on the table and doing other domestic chores  most people today have never heard of. We had to help and usually found some way to make the tasks fun and interesting.   Billy-Pearl's farm even produced soap using animal fat and lye which is how we made our soap.
This is the most delicious literary morsel of my summer! 
It should be at the top of any reader's Christmas gift list!