Roxi Wilkinson has graciously agreed to share some of her recent reads with us. The following review is part of an ongoing series of guest posts written by Roxi: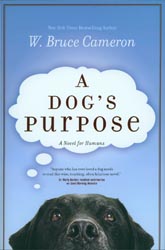 "If you are one of those people who take their dog to Wiggly Field then W. Bruce Cameron's book A Dog's Purpose is the perfect treat for you.
This is an intriguing story told by a dog about it's journey through many lives.  Cameron's style invites the reader to get inside a dog's mind. 
Toby is a puppy when the book begins.  Toby, his Mom and litter mates are homeless and hungry.  The local dog catchers pick them up.
This is the first time Toby experiences humans, confinement and  plentiful food.  Toby thinks:  "There was, I reflected, much more complexity to the world than I supposed.  It wasn't just about Mother and my siblings hiding from people, and playing in the culvert.  Larger events had the ability to change everything-events that were controlled by human beings."  Thus the great outing begins.
A Dog's Purpose is a book for the older middle school reader all the way to the most critical of adult readers.
I admit I was afraid to read an animal story because I can't take it when the dog is hurt or dies.  I buried my face in a pillow, plugged my ears and hummed during Old Yeller. I couldn't watch Lassie. A Dog's Purpose was healing.  My view on life has been forever enhanced.
 A Dog' Purpose is a charming story for any animal lover.  I promise, you will never look at your dog the same again."
*******************
Other books in our collection for the animal lover:
The Art of Racing in the Rain by Garth Stein
Emory's Gift and A Dog's Journey by W. Bruce Cameron
Life of Pi by Yann Martel (and September's online book club selection)
The Call of the Wild by Jack London
Wesley the Owl: the remarkable love story of an owl and his girl by Stacey O'Brien (An amazing true story! Available in audiobook format via Overdrive.)
If you would like to share a review of a book in our collection you've enjoyed, please email me at thickox@cityofalliance.net and I'll be happy to share!