Roxi Wilkinson has graciously agreed to share some of her recent reads with us. The following review is part of an ongoing series of guest posts written by Roxi: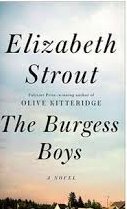 The Burgess Boys by Elizabeth Strout is the story of two brothers who escaped their life in Maine as soon as high school ended. They are both lawyers.  Jim, a successful corporate lawyer and Bob, a Legal Aid attorney. Their lives are sent spinning when their sister calls, desperately needing help with her lonely teenage son. The adult children struggle with their current issues as well as their past; a tragic death of their father. Strout is a brilliant storyteller, weaving humanity's deepest desires and sorrows into a masterpiece. I feel blessed to have found this book.
Strout is a Pulitzer Prize winning author of Olive Kitteridge which I hope to checkout soon!
************************************
Reviews may be submitted for posting via our Contact form – we'd love to hear from you!